..:: Pedagogy ::..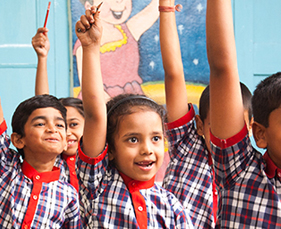 We have adapted the latest trends in the academic industry which shall produce quality manpower for various industries in times to come.
As a part of Teaching methodology we have given priority to train students in effective communication skills, application knowledge an advanced Maths and Science concepts with regular online Assessments and Social Learning.
Science and technology are important but to understand the terms and terminology of any SUBJECT, one needs a strong foundation on the basics of language, vocabulary, expressions, as every term we use in various subject has a proper origin and place in literature.
Science Lab:- Practical way of learning complex concepts.
Gone are those days of imagining how a chemical reaction takes place or how a law of physics can be applied in our daily lives. we now present a unique blend of theoretical teaching with practical demonstrations which leave a print in the student's mind and build a lateral perspective in them.
Engaging students in science experimentation helps  Teachers  to ensure 100% student attendance and participation while dealing with complex science concepts. The practical experimenting saves lot of time for both the teacher and student and helps in faster completion of syllabus.Student can never be under the pressure of mugging the chapters,instead the application skills and curiosity to come back to the school for a new experiment is what drives them every day.
A detailed analysis notes on pre & post experiment will help a student to remember the concepts and applications forever .
Communication Gym:
As our curriculum is highly interactive, every child gets an opportunity to express on regular basis.
Communicating the intended message clearly and effectively is an important skill, which is a key factor in deciding the chances of success. But communication skills are a set of important attributes that highlight one's personality. One need to focus diligently on his communication skills to convey ideas better. To do the same, we have come out with a COMMUNICATION GYM where children will learn
Written communication
Verbal communication
Listening skills and get handy with rich vocabulary, right expressions for right time and apt situation.