..:: Creating a feel of Citizenship ::..
Civic Sense: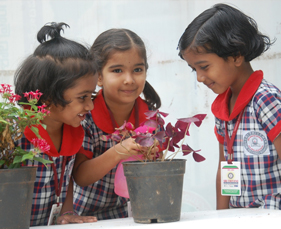 At SRI TRIVENI we believe and we emphasize that civic sense is not about rule books and procedures. It is our basic conduct and determination to adhere to those principles which are developed by us for the good of society which we are a part of.
Rallies on traffic sense, importance of voting, staying eco friendly, etc, are conducted from time to time such that students can witness the reality at the grass root level which helps them to understand the root cause of the problem.
Volunteering for a cause:
Today the voice of the majority(Voice of common man and youth) is neither audible nor paid attention to. We at SRI TRIVENI thought that this has to be changed and joined with various NGOs and service organizations working for different causes like avoiding polythene bags, saving water through rain water harvesting, safeguarding the lakes from encroachments, using renewable sources encouraging, go-green, etc.
Educational Trips:
India is a country with diverse culture and schools need to give due focus on transferring this to the younger generation, making them respect their past while building a glorious future for themselves and their nation.
This can happen only through educational trips to all the major places during their school days.