..:: Library ::..
Well stacked library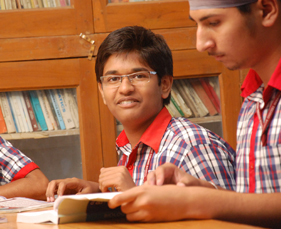 Books act as bridges for carrying forward the knowledge, tradition, history and probe a human being to think beyond wildest of the imaginations. The number of volumes and the quality of the books present in the library rack of a school is an yard stick to judge the quality of education that is imparted in that school.
A good habit of reading multiple newspapers and creating a personal space for reading itself can pave path to many children towards knowledge and helps them understand the world in all new perspective.
At SRI TRIVENI we believe in this philosophy and have taken due care to ensure that all the necessary books, News papers & Magazines that enhance the thinking process of children are in reach. We also welcome donation of books from faculty, parents and well wishers as it helps us many a times to break the routine and get an idea of how fast things are changing around us.